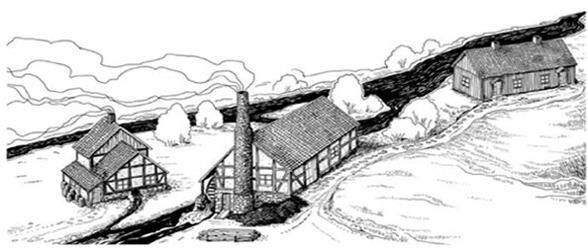 In the lower part of the river Assman, building foundations from the old ironwork Jöransfors are still noticeable today.

Stiernarp Manor was a major producer in the 1700s and was self-sufficient in areas such as food, building materials, clothing and linen goods and paper. By the end of the 1720s, the company expanded its business with an ironwork and a tannery. The facilities were placed near the mouth of the river Assman in Brearedssjön.

The tannery was located on the island and the ironworks were located along the river. These buildings were timbered houses with brick fillings and tiled roofs. The great logistical possibilities of the raw materials and finished products were extremely important.

Today, you can still find traces of roads at the site. It is assumed that some goods were transported by boat to the roads on the other side of the lake that connected to Halmstad and Småland.

The business ceased to operate after about 20 years.