Lillared-Klövaberget Nature Reserve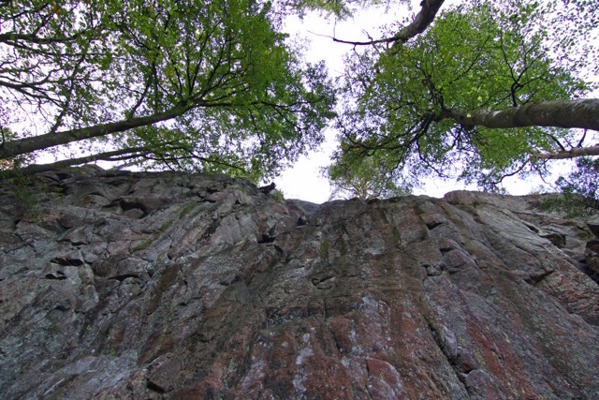 Klövaberget's 30 m high and 100 m long rocky edge is will evoke a tickling in your stomach and will give you a wide view of Simlångsdalen. The top of the cliff is a perfect place to enjoy a coffee basket and a fika.

The cliff was formed by vertical movements in the earth's crust and is called a fault. The same forces created the stone blocks that lies beneath the cliff. These stone blocks were used when building Breared's church in the 13th century. If you go below the foot of the steeple, you will discover a 6 m wide cave.

The woods are filled with pillar-like trees covered with unusual lichens and mosses. In the past, the forest wasn't as dense while the animals used the area for grazing. Since the forest has not been used by humans for a long time, the forest has a mixed environment with swamp-, deciduous- and pine forests. During spring the wood anemone pops up in between the old leaves and in the middle of summer, the wood stitchwort covers the ground with its little white stars.

Directions:
From highway 25 in Simlångsdalen follow the road towards Oskarström. After about 1 kilometer there is parking on the east side of the road. On the other side of the road, a bit further, there are marked walking trails.