Långhultamyren Nature Reserve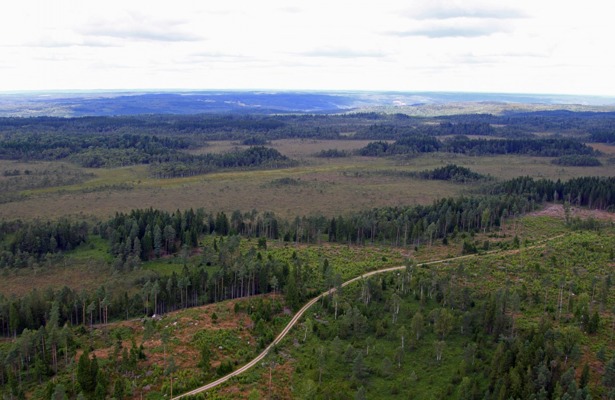 Get out of the car, amble up towards the juniper covered hill, have a seat and look out over the bog. If you want to experience the jousting of the grouses, sneak up to the hideaway one kilometer from the parking lot, an early morning in March-May.

The grouse hideaway is here for two reasons; you can spend the night in a sleeping bag or you can watch the grouses on the bog. The house fits about 20 people bird watching and accommodate about four people for the night.

The marsh is also home to moose, capercaillie and the northern goshawk and along the 4 km long hiking trail you can experience the entire reserve. During July it looks like the marsh is on fire when Halland's largest stock of bog asphodel blossoms in yellow and red shades.

Keep your eyes open along the trail for the carnivorous plant sundew. The small plant has round, red leaves and grows among the peat moss. The cranberry ripens at the autumn's first night of frost. Other plants you can find are common cottongrass, cross-leaved heath, bog-myrtle and purple moor-grass.

Winter: During the winter when Simlångsdalen is covered in snow, you can find a couple of well-prepared ski trails (blue 5 km, red 10 km) that Simlångsdalens IF tracks voluntarily. During snow, the parking next to Route 25 is the only one open.
Directions:
Drive on Route 25 from Simlångsdalen towards Ljungby. After 5 kilometers, follow the signpost towards "Långhultebacken" on the left. A parking is available along the way. You can also follow the gravel road which goes north into the reserve, to further parking available.