Danska Fall Nature Reserve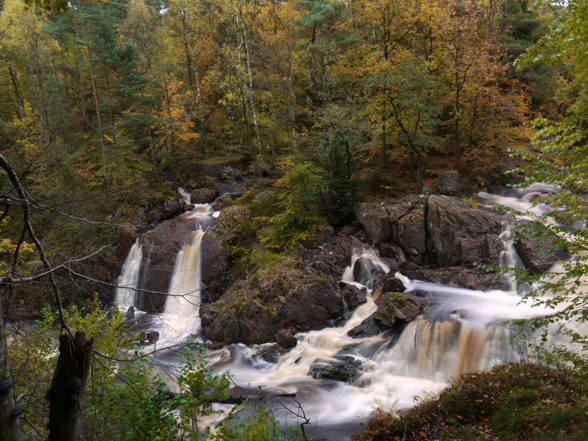 One of Halland's most visited nature reserves lies within walking distance from Simlångsdalen. At Danska Fall, the river Assman's water flows in staircase formations into a deep ravine between stones and rocks. Here you will find a beech and oak forest with elements of pine mire, marsh forest, lakes and streams in between hills and valleys.

Wander around in a 100-200-year-old, untouched forest covered with unusual lichens and mosses. Among the greenery there are plenty of old stumps and dead tree trunks that provide a perfect living ground for woodpeckers.

The water in the river follows the bedrock and flows into a narrow valley with dramatic mountain sides which forms a steep canyon. The height from Danish Fall to the river mouth is about 36 meters and forms several beautiful rapids and smaller waterfalls.

Danska Fall means The Danish Falls which originates from an old hearsay after the battle of Fyllebro in 1676. Part of the Danish army escaped along Fylleån and sought shelter in the woods near the fall. When the fleeing Danes ran over a hanging bridge, the Swedes cut the ropes so that the Danes fell down. In the middle of the river is a large rock known as Kungastenen, or the King's Rock, in honor of Karl XI who then was the Swedish king.

In the lower part of the river Assman you can still see remnants from the old iron mill Jöransfors, which in the 18th century was one of Halland's largest manufacturers of nails and tools. This was a perfect spot for using the water power and the wood from the forest for the production.

Directions:
At the western entrance to Simlångsdalen, turn towards Tönnersjö opposite Tallhöjden and follow the signs to Danska Fall.